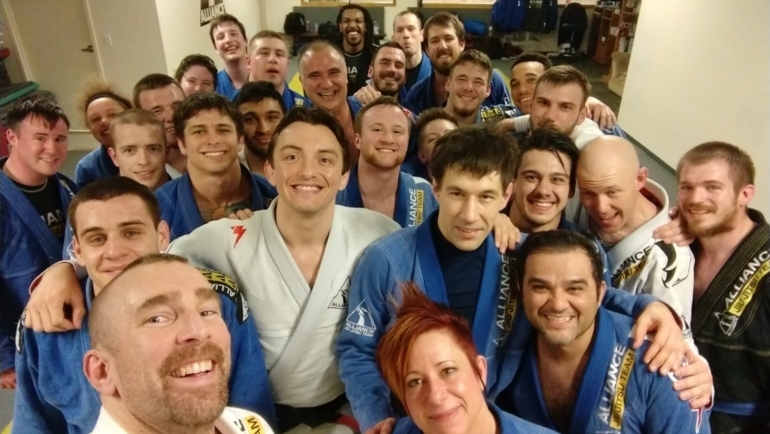 Madison Jiu Jitsu Academy (Madison BJJ)
The Beginning of BJJ in Madison
I often tell the story of how this Academy first got started.  When I meet people and do interviews, people often ask about how myself, or my wife Sonya, ever got involved with Brazilian Jiu-jitsu.  More important than where we came from though, in my opinion, is where we are heading.  When I started my first academy here in Madison, Wisconsin, I had to live in the back of the academy and work a full time job to pay the rent.  I could not afford to have both an apartment and an academy, so I made the sacrifices necessary to keep the academy running.  At this time, Brazilian Jiu-jitsu (or BJJ) was still relatively unknown.  And for most that knew it, it was equated with Mixed Martial Arts (MMA) fighting.
BJJ took the martial arts world by storm in 1993 when Royce Gracie won the first Ultimate Fighting Championship using his families style of Brazilian (or Gracie) Jiu-jitsu.  Royce won 3 fights in one night, utilizing a style unfamiliar to most, by taking his opponents to the ground and controlling them.  His style nullified strikes, such as punches and kicks, and instead relied on joint locks and choke to make his opponents quit.  Royce was not the most physically impressive fighter that day. He was not the biggest or the strongest, yet he seemed to win with relative ease.   I, like many, was amazed and decided I had to see what this BJJ stuff was all about.
I had already been training Judo, starting as a child and picking it up again after I graduated High School, and so I was familiar with some of the ideas of BJJ.  But this was something different, more complex.  I quickly learned that BJJ was pretty much non-existent in Wisconsin, especially here in Madison.  So I decided to seek out whatever I could.  I started traveling to do seminars with whomever I could.  I would bring the ideas back to the Judo Club for us to train.
The Birth of one Madison's first BJJ Academies
Not long after, Madison Judo Association became Madison Judo and Jiu-jitsu, and finally Madison BJJ Academy.  At the time there was really only one other place offering some BJJ instruction, and they only had a handful of students as well.  So, sleeping in the back of the academy every night, working during the day at a car dealership, and teaching BJJ and Judo at night, Madison Jiu-Jitsu Academy slowly grew.
Fast forward to 2019, Sonya and I are standing out front of our new facility waiting to open the doors for our Grand Opening, and I find myself telling this same story.  in 2009 We aligned ourselves with the single most technical team in the world, Alliance BJJ, in order ot really change our programs.  Alliance provides the highest level of instruction for Adults, Kids, self defense, MMA, and sport/competition BJJ.  Alliance has discovered the recipe for allowing anyone to train Jiu-jitsu safely and effectively.  Young, Old, Man, Women, whatever the case may be, you CAN do BJJ.  This system has allowed us to grow into Madison's largest and most successful BJJ Academy.
We now have a 3,000 sq foot mat space for training, one of the largest in the entire Midwest.  We have produced Pan American and World Champions and my wife Sonya is the most accomplished Masters Black Belt in the state of Wisconsin.  She holds more Major Titles than any other Masters Black Belt in the area.  All of this and yet the best part of our day is working with the brand new white belts.
Why We Do it!
So many people have had their lives changed through this sport, including both of us.  The whole reason we teach is to help others figure out the same things we have learned from BJJ, we are stronger and more capable than we think or give ourselves credit for.   BJJ teaches us to find strengths we never knew we had, finding perseverance through the most difficult situations.  These lessons we learn carry out and spread through our entire lives.  They help us be better, more well adjusted adults.  We couldn't imagine doing anything else.
Today it is easy to look up a local BJJ academy in almost every town in the US.  It has spread like wildfire and for good reason!  In the Madison area we have 5-6 BJJ academies.  I know we personally love to see the growth of the sport.  Sometimes people ask about the other academies as if they are "competition" for us and I always have two thoughts.  First, I don't like to look at other academies as competition.  I'm happy so many people are interested in BJJ, that there can be this many academies in Madison.
More importantly, the "competition" brings out the best in us, just like it does in a tournament.  We need to be the best so we can be successful.  I love that people have choices in where to train.  When they choose to train with us, they see the value in what we have to offer.  Most important, the values we share that have made us Madison's best BJJ Academy!