Meet Instructors, Mark & Sonya Plavcan
Owners & instructors Mark & Sonya welcome you to Twisted Fitness and Alliance Brazilian Jiu Jitsu Madison, Wisconsin! Our brand-new facility opened in Fall of 2019 and they are extremely excited to invite you to be part of their Brazilian Jiu Jitsu family. Mark & Sonya met through Jiu Jitsu and have parlayed their passion for the martial art into the most successful Brazilian Jiu Jitsu program in Wisconsin.
Mark & Sonya invite you to come to take advantage of the free private intro and discover why this is more than a Martial Art, Brazilian Jiu Jitsu is a lifestyle that brings together, health, commitment, camaraderie, and of course, self defense.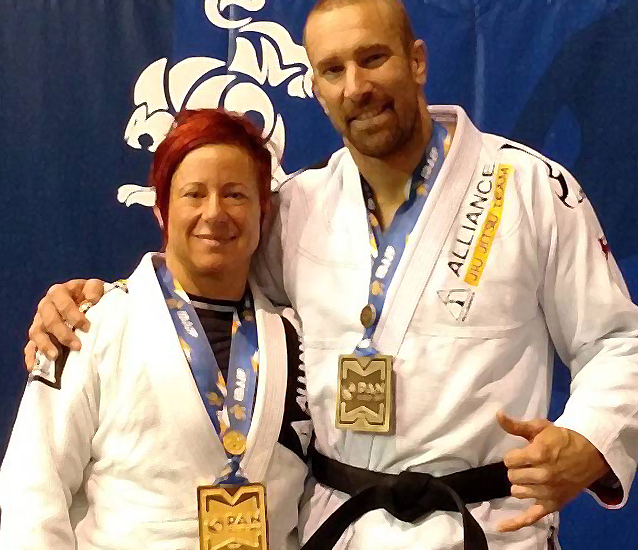 Lineage: Mitsuyo Maeda > Carlos Gracie > Helio Gracie > Rolls Gracie > Romero Cavalcanti > Mark Plavcan
Mark started the Martial Arts at the age of 8, taking his first Judo class at a local Boys Club. He was immediately attached to the grappling arts and started competing shortly there after. Many years later Mark witnessed, as so many others did, the strength of BJJ while watching Royce Gracie in the first UFCs. Having already trained in the GI (traditional uniform) during his Judo training, Mark began searching for an outlet to train BJJ. As there were no real BJJ schools as of yet, he tried expand his knowledge by traveling for BJJ seminars, competitions, etc. In 2000 Mark received his Blue belt in BJJ from Pedro Sauer. Serious about the sport, he spent even more time, traveling, training, and trying to learn more and more of the art. Mark then received his Purple belt in 2004. In 2009 Mark joined the Alliance BJJ team, the most successful competition team in BJJ history. Mark received his Brown belt in 2010 and then his black belt in March of 2013, both from the Legendary Romero "Jacare" Cavalcanti. Mark has been honored to coach many MMA fighters, UFC veterans, as well as World Champion BJJ Fighters who seek out his knowledge to grow their game. He is widely considered one of the best BJJ coaches in the state of Wisconsin. Mark continues to train with the best BJJ practitioners in the world on a regular basis, while trying to grow and expand his team here in Madison. Proud to represent Alliance as one of their Black Belt instructors, Mark is honored to be a part of the best team in the world.
Accomplishments:
2nd Degree BJJ Black belt under Romero "Jacare" Cavalcanti and Alliance BJJ
Head Instructor for Alliance BJJ Team in Madison, WI
Undefeated Amateur and Pro Mixed Martial Arts record
Coach to UFC Veterans, "Ultimate fighter" TV contestants, and BJJ World Champions
Alliance Certified Instructor Level 1 & 2
Alliance Certified Kid's BJJ Instructor
Alliance Certified NOGI Instructor
2016 IBJJF Atlanta Open Champion – Gold Medal- Black Belt
2017 IBJJF Pan American Championships -Bronze Medalist – Black Belt
2017 IBJJF Chicago Open -Silver Medalist – Black Belt
2018 IBJJF Chicago Open -Silver Medal- Black Belt
2018 IBJJ Chicago Open – Silver Medal-Black belt -Open Class
20+ years of Competition, Training, and Coaching Experience
Lineage: Mitsuyo Maeda > Carlos Gracie > Helio Gracie > Rolls Gracie > Romero Cavalcanti > Sonya Plavcan
Sonya's exposure to Brazilian Jiu-jitsu was almost accidental. After graduating from the University of Wisconsin, Madison with a degree in Chemical Engineering, she began working in her field. Sonya decided to fill some of her free time by teaching fitness classes at a few gyms in the area. When was offered a spot teaching Cardio Kickboxing, and not wanting to teach something without a full understanding of it, she enrolled in some kickboxing classes at a Local Martial Arts academy. One day after a Kickboxing class, her instructor suggested she try out the BJJ class happening in one of the other rooms of the facility. She sat in on her first class and was competing only months later. Sonya stands out as the most distinguished Female grappler in the state of WI. She is only the second female to ever receive a Black belt from the legendary Romero "Jacare" Cavalcanti. Only 1 Month after being Promoted to Black belt, Sonya took 2nd in the IBJJF Pan Ams, one of the largest and most prestigious BJJ tournaments in the world. Then, only 5 months later, Sonya was on top of the podium at the IBJJF Master World Championships, the highest level tournament for someone in her class. Hours later she was back on top of the podium, taking her second gold Medal of the day, winning the Open Weight class. Sonya is currently the Top Ranked Female Black Belt in the World and is the ONLY Female Black Belt World Champion in the state of Wisconsin.  She is currently 14-1 as a Black Belt and has only had 2 points scored on her throughout her competitive Black Belt career.
Accomplishments:
Alliance Certified Instructor Level 1 & 2
1 st Degree BJJ Black Belt – under Romero Cavalcanti and Alliance BJJ
Gracie Nationals – Gold Medal -Women's Blue belt
2012 IBJJF Pan Ams – Bronze Medal – Female Purple Belt
2014 IBJJFChicago Open – Gold Medal – Female Brown Belt (weight)
2014 IBJJFChicago Open – Silver Medal – Brown Belt Open class
2016 IBJJF Pan Championships – Silver Medal – Black Belt Master
2016 IBJJF Master World Championships – Gold Medal – Black Belt (Weight Class)
2016 IBJJF Master World Championships – Gold Medal – Black Belt (Open Class)
2017 IBJJF Pan Championships – Gold Medal- Black Belt
2017 IBJJF Master World Championships – Gold Medal -Black Belt
2018 IBJJF Pan Championships -Gold Medal – Black Belt (Weight Class)
2018 IBJJF Pan Championships -Gold Medal – Black Belt (Open Class)
2018 IBJJF Chicago Open – Gold Medal – Black Belt (Weight Class)
2018 IBJJF Chicago Open – Gold Medal – Black Belt (Open Class)
2019 IBJJF Master World Championships – Gold Medal -Black Belt
2019 IBJJF Master World Championships – Gold Medal -(Open Class)
2021 IBJJF Master World Championships – Gold Medal -Black Belt
2021 IBJJF Master World Championships – Gold Medal -(Open Class)
2021 IBJJF Master International Championship – Gold Medal -Black Belt
2021 IBJJF Master International Championship – Gold Medal -(Open Class)